Event Phone: 863.676.1408
January 20, 2018




9:00 am - 1:00 pm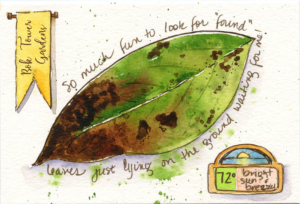 Come and join me for "Postcards in The Gardens" at the beautiful Bok Tower Gardens in Lake Wales, Florida!
Bok Tower is home to 130 acres of native flora and fauna, more than 100 bird species and the 205-foot singing, carillon tower…in other words, the perfect place to go and explore with our sketchbooks. We'll be using postcards to keep the pressure at a minimum as we explore the idea of putting pencil to paper to capture some of the gardens beautiful blooms and blossoms.
We'll have time in the classroom as well as out and about in the garden. We'll work on capturing simple shapes, adding borders and a bit of writing to finish out our postcards. At the end of class, you'll have a handful of souvenirs like no others that you can send to family and friends or hold onto for your own enjoyment!
To read all about this class and to register, please click this link. As always, let me know of any questions you may have. You can leave a comment or send me an email via the contact link at the top of the page.
I hope to see you there!
SaveSave
SaveSave
Location
Address:
1151 Tower Boulevard
,
Lake Wales
,
Florida
,
33853
,
United States