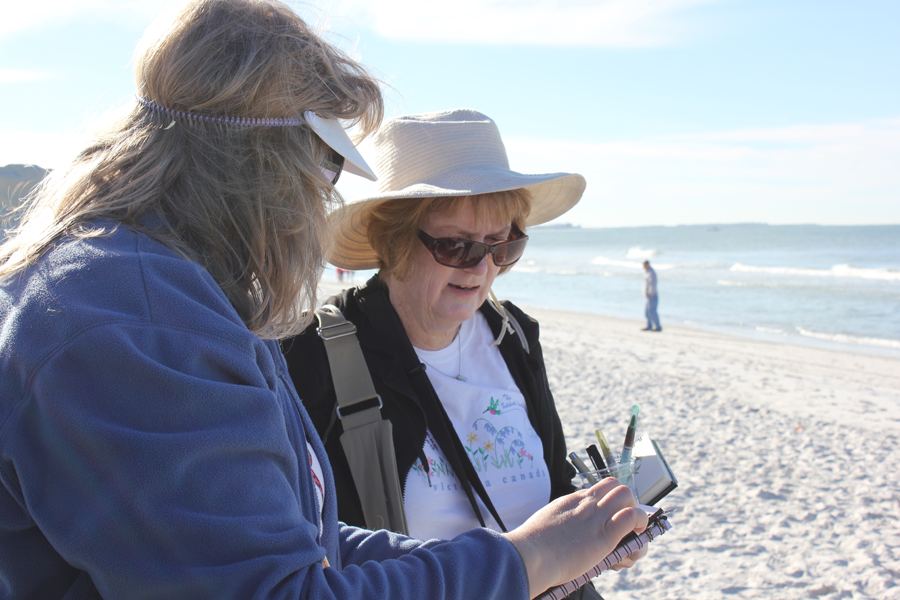 Hello!
Welcome to ImaginaryTrips.com
So glad you're here! The idea for taking imaginary trips and visits to exciting and exotic locations around the world came to life back in 2009 and is the brainchild of artist, Laure Ferlita. Several events happened back in 2008 that helped to bring about this unique approach to learning to sketch on location.
Back 2007, Laure's job was outsourced to another country and she found herself on the hunt for new employment. Unfortunately, the economy was in a dive and she was one of many to see their jobs eliminated that year and the next. To keep sane during the long hours of fruitless searching, she painted.
After Laure discovered blogs online, she started posting her artwork along with humorous anecdotes on her own blog, Painted Thoughts. Shortly after Laure started to post her work online, she started receiving inquires asking if she taught. With the job search going nowhere fast, she looked into local places to teach only to find them filled and with waiting lists.
During a visit to the Apple Store where she was learning to use new software on her Mac, Laure mentioned her challenges to one of the training gurus and his response was "so, teach online." This conversation took place in May 2009. After a summer of complete insanity, Laure launched her first class, An Imaginary Trip To Paris, in September 2009! The rest, as they say, is history.
About Laure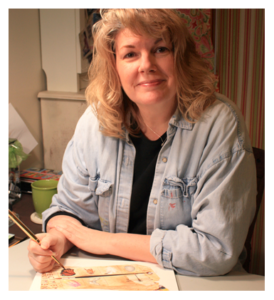 Laure started out as a full-sheet watercolor artist. She painted in her spare time while working as a graphic designer in a corporate office. She discovered a desire to do a better job of capturing her experiences when traveling after she returned home from a trip to Alaska. Between her husband and herself, they had 11 rolls of film to develop (this trip happened long before the advent of digital cameras).
Between them, they had photos of mountains, snow, and glaciers…and more mountains, snow, and glaciers.  There were a few images of caribou "dots," seal "dots" and bear "dots." They were dots because in the photo frame, the animals were little more than dots! Convinced they would never forget the details of such an epic adventure, Laure didn't make any notes of the experiences they had, places they visited or where stayed.
Fast forward a few years and she started to see fabulous sketchbooks online and thought, "hey, I could do that with my Alaska trip!" But even five years after the trip, many of the details had started to become hazy. The lesson became evident it was better to sketch while on the trip than five years later! Since she had another trip planned, she decided to go out sketching in her own town…only to come home frustrated and stumped as to why she was having so much trouble filling the page.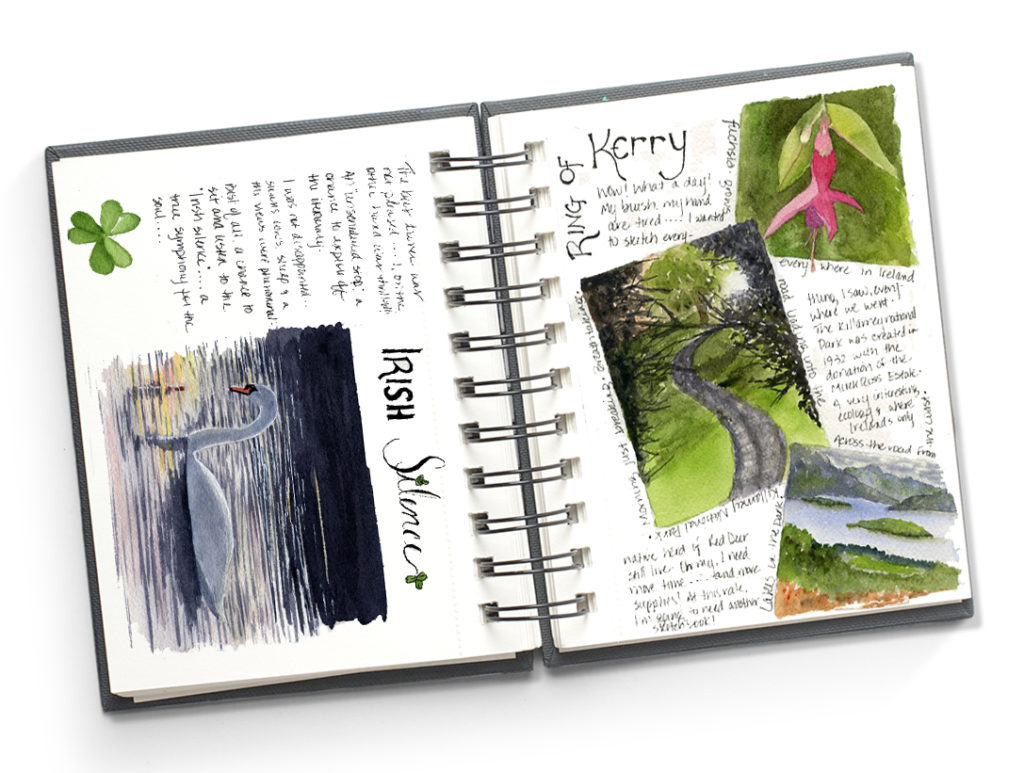 After much trial and error, emphasis on error, she began to realize it took a very different mindset to work on location than to work in a studio. The approach needed to work out in "the wilds" also had to be very different and Laure set about creating a system for herself called "The 5 E's" to use on location. She shares this system in her online and live classes as a means to help artists begin to learn this approach to filling the page.
Nearly ten years later, one of Laure's greatest passions is still helping folks experience the joy of sketching on location, whether it's in their own backyards or halfway around the world!
If this sounds like something you're interested in, come and join Laure on one of her imaginary jaunts around the world!
Booking A Workshop With Laure
Laure loves connecting with other artists and traveling to new places! If you're interested in working with her, please contact her via this link. She offers one-day, two-day and weeklong workshops to groups. She also gives demos and "talks" about the artistic pursuit of a creative life.
SaveSave
SaveSave
SaveSave
SaveSave
SaveSave
SaveSave