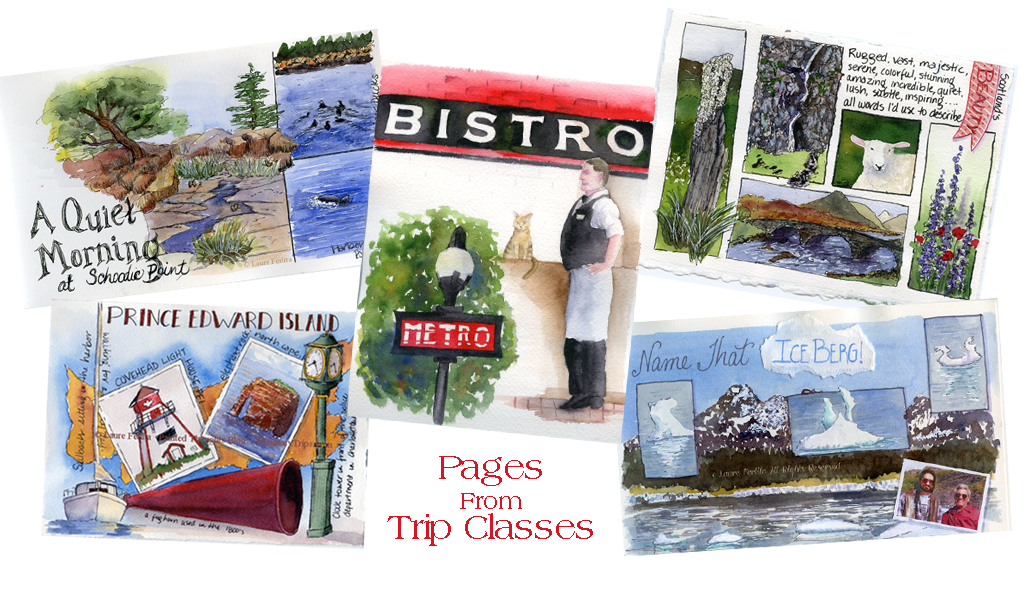 Trips
All Aboard!
There are currently no "trips" on the schedule. Please check back or click here to sign up for the ImaginaryTrips.com' newsletter so you won't miss a thing!
Sketch The World
Traveling with Imaginary Trips eliminates the usual travel hassles to deal with—jet lag, long lines, delays, or inclement weather! Instead, sketch the world from the comfort of your own home!
ImaginaryTrips.com offers a creative way to learn sketching and painting skills. Online, interactive, sketching classes, also called "Trips," take you to fabulously exotic locations where you'll learn more about our destination as well as improve your art skills.
Learn New Skills
Using Laure's system of the 5 E's, you'll learn to distill down to the essence of the scene in front of you so that you can get the important stuff down on the page. Not only does Laure give you lots of help with the actual sketching, she also gives you plenty of ideas for finishing the page with layout ideas, lettering suggestions, border treatments and other special touches to make your page look polished.
Learn On Your Time
Night owl? Early riser? Road warrior? No matter, the class is always available whenever and wherever you have internet connection. Just imagine that you can "travel" with your busy, crazy life! You're not held hostage to a physical classroom.
The Trip classes have six assignments and are interactive with a private class blog where you're invited to post your artwork for gentle feedback from Laure as well as the other travelers. Video demonstrations are available from the time they are posted until the end of the class which always falls two weeks after the last assignment. You can watch them as many times as you want.
Laure is available to answer questions via email about techniques, supplies and the current class location.
Connect With Others
Imaginary Trips is built around the theme of community. Learn from others as they learn from you and Laure by sharing your work in a private classroom. As they say, "We can't live long enough to do it all!" So it's a big help when other travelers share their take on a location and how they created their art and page. Laure's classes are positive reinforcements of the simple premise, be kind—always. Many artists have posted work they weren't thrilled with only to come away with a new perspective after reading the feedback from the other travelers in the class!
---
Testimonials From Others
"I have taken MANY online art classes from many different teachers. Laure Ferlita is one of the very best teachers I've taken from and her classes are among the most enjoyable of any I've taken. Her classes are filled with lots of valuable information and it is presented in an organized way. She provides pdfs that you can print out and keep, and there's nothing like actually watching her paint. So if you want to learn to watercolor or you just want to take an imaginary trip somewhere, I HIGHLY recommend Laure's classes!" —C.G.