Event Phone: 941.747.2995
December 9, 2017




9:00 am - 12:30 pm
Painting A Nautilus Shell's Story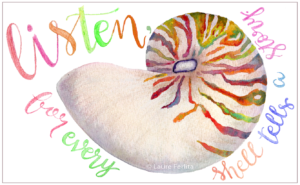 Every shell has a story and it's ours to tell…or keep secret!
When dealing with a highly recognizable object, it is fun to use just about every color in the paint box rather than sticking to reality. After all, I have a photo and regardless of the color, the object will still be easily recognized.
By using a fun but non-traditional art supply, the shading is pearlescent (unfortunately, pearlescent shine doesn't show well in photographs), and all that fun shimmer adds another layer of fun to the page!
This non-traditional art supply is one you'll be reaching for again and again. (For more info, please follow the class link and check out the optional supplies portion of the supply list, but I'll give you a hint…you find it on the make-up aisle.)
So come and join me for some nautilus fun!
To register for this class, please call Keeton's at 941.747.2995
SaveSave