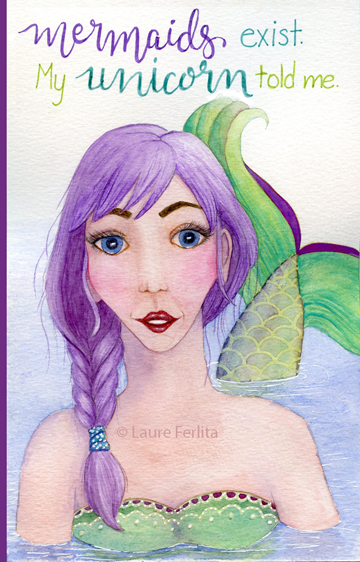 Event Phone: 941.747.2995
November 4, 2017




9:00 am - 12:30 pm
Some folks say mermaids don't exist, but my unicorn said otherwise(!) and even if these mythical creatures do not exist, they're way too fun not to paint! We'll take what we learned in the Drawing Whimsical Faces class* in September and apply it to painting a face with watercolors and watercolor pencils.
We'll work out how to get the skin tones we want as well as how to add highlights to eyes, lips and skin so they look lively. In addition, we'll work with creating the look of water and reflections!
This class will focus on painting a female face only and will not utilize anime drawing techniques.
*Please Note: The October class, "Drawing A Whimsical Face" is a pre-requisite for the "Painting A Whimsical Mermaid" Class that will be held on November 4th unless you are experienced at drawing faces. You are not required to take both classes if you wish to only learn to draw whimsical faces.
To register for this class, please call Keeton's at 941.747.2995!