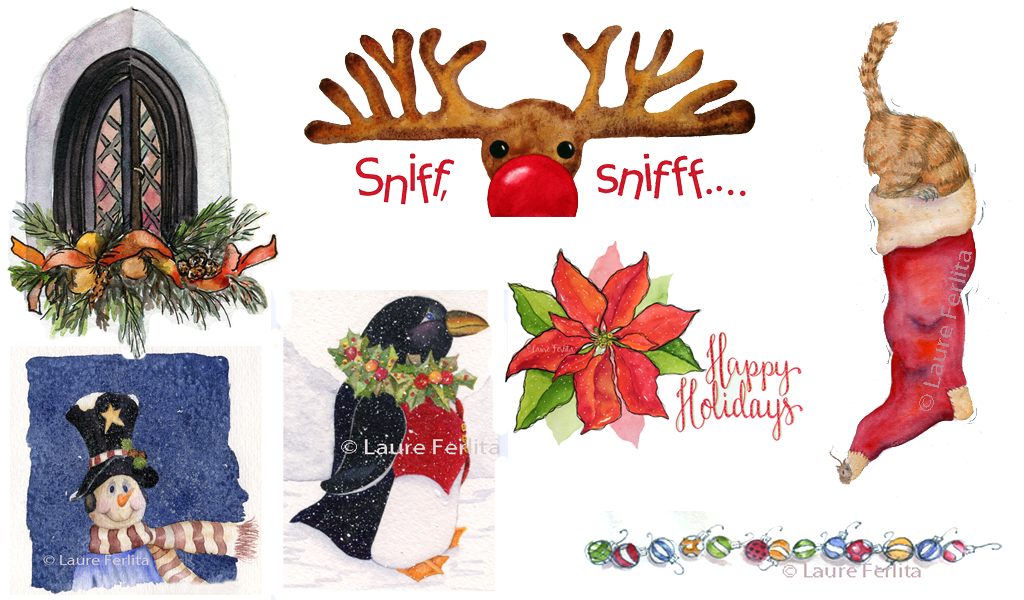 December 6, 2017 - December 5, 2018




8:00 am - 5:00 pm
Individual classes will be listed separately at TheImaginaryRealm.com and will be available on the specified date each class drops.
Poinsettia and holly berries, wreaths and snowmen, silver bells, mistletoe and bows—plus a whole lot more!
Like me do you get really inspired to create art during the holidays only to realize there aren't enough hours in the day? Then this class may be for you!
Creating during the holidays is something I always want to do, but juggling all those extra activities can make it tricky, if not impossible. It seems the first thing that falls off the "to-do" list is art. Do you have the same challenge? Well that's about to change! Introducing  'Tis The Season, A Year Of Festive Holiday Art!
'Tis The Season is going to be a series of lessons presented over a period of a year with a new assignment posted on the first Wednesday of each month. Each class will include two separate elements – art and lettering – with styles varying each month. The monthly project can be created in your sketchbook or as a standalone piece of art.
The assignments will focus on different approaches to each subject along with additional mediums (gel pens, white paint pens, acrylic paint, pearlescent pastels, etc.) to enhance the use of watercolor. With no time constraints, you'll have plenty of time to create your art and you'll have a minimum of a year with each lesson!
In addition, you'll get email reminders to let you know when the next class is available so you stay on track until the end of the year. Also, depending on the class option you sign up for, there will be a Facebook group for you to post your work and share ideas in.
There will be three class options:
Individual Classes – $12/class: You get to pick and choose which classes most appeal to you. Each class will be $12 USD and you can sign up any time. You will have one year with the materials from the date you sign up!
Bundled Classes – $30/Bundle: Get crazy-busy at certain times of the year? This may be the option for you! The classes will be bundled into four individual sets: December 2017 – March 2018, April – June, July – September and October – December. There will also be a closed Facebook Group to join if you want for support and encouragement. Annnnnnnd…if you sign up for the December Bundle you get an extra bonus class—gotta get this holiday season off to a great start!
Happy All-Year-Long Bundle – $100/year: Sign up for the entire year at one time and you'll save over $50! Another cool thing about this class is that you have two years with the materials as the class will stay live from a year past your last assignment in December 2018.
Please Note:
All assignments are non-denominational but can be easily changed as you deem appropriate.
Assignments will drop on the first Wednesday of each month regardless of sign-up date.
Individual Class Refunds: No refund or credit can be given for the individual class if it is included in a bundle that you later wish to purchase.  This is due to the structure of the class web site and the multi-class environment.
Bundle or Year Refunds: Due to the unique structure of these classes, no refunds will be issued. This is due to the structure of the class web site and that there would be no way for someone to keep access to their class materials in the multi-class environment.
The Facebook Group is for artists purchasing a Bundled class or opting for the year-long class. While I will be cheering you on, offering encouragement and answering questions, this class will not have formal critiques.
All art shown on this page is concept art and may not be included in any of the actual classes.
The Bundles will include the following classes. While they are available for purchase now, the individual classes will not become available until the dates shown.
First Bundle: 
December 6 – Poinsettia
January 3 –  Flakes Welcome (snowman)
February 7 – Mistletoe
March 7 – Keep Calm and Jingle All The Way
Second Bundle: 
April 4 – Scent of Pine (wreath and pinecone)
May 2 – We Can Build A Snowman
June 6 – Baby, It's Cold Outside (snowflakes)
Third Bundle:
July 4 – Tree Tops Glisten
August 1 – Candles In A Window
September 5 – Holly and Berries
Fourth Bundle:
October 3 – Stocking Fun
November 7 – A Few Of My Favorite Things
December 5 – Nutcracker
Just imagine, this time next year you'll have oodles of wonderful holiday artwork to choose from to create holiday cards, gifts, tags and more. So what are you waiting for?! Come join the fun!
SaveSave
SaveSave
SaveSave
SaveSaveSaveSave
SaveSave
SaveSave
SaveSave
SaveSave
SaveSave
SaveSave
SaveSave
SaveSave
SaveSave
SaveSaveSaveSave
SaveSaveSaveSaveSaveSave
SaveSave
SaveSave